Guaranteed Christmas 2021 order/delivery dates
As this year comes to an end and the hope that we will, at some point, return to some form of normality soon, despite the continued uncertainty, demand for our Vintage Door Knobs remains extremely high!
It appears that your appetite to forge ahead with your renovations and build projects is an indication of your refusal to let the current situation get in your way.
We continue to have specific measures in place that we have prioritised to ensure the safety of our staff and on occasions, staff still have to self-isolate as a precautionary measure.
Pre-Christmas order cut-off dates
The last date that we can receive orders to guarantee a pre-Christmas delivery will be 9.30am on Wednesday 22nd December 2021 with the last date for delivery being Thursday 23rd December 2021.
Any orders placed after the cut-off date cannot be guaranteed to be despatched prior to Christmas, but if we are able to do so we will do.
If you do not require your order until the New Year, please indicate this in the comments box at checkout.
For any further updates, please see our news feed and social media feeds in the run up to Christmas for any additional changes.
Please continue to keep safe!
The VDK Team
(1st December 2021)
---
COVID-19 (Coronavirus) Update! 17th April 2020
WE ARE OPEN AND TAKING ORDERS ONLINE AS NORMAL!
Amidst these unusual times, here at The Vintage Door Knob Centre, we feel it is very important to keep connected to our customers and provide support wherever we can.
The government outlined this week that every effort should be made across society to minimise social contact for a further three weeks in order to slow the spread of the virus.
As a company we continue to adopt this policy and this means we continue to have a slightly reduced production capacity so you may find normal services may take a little more time.
As we enter another week, our office staff continue working from home, and those producing your orders are keeping to the social distancing rules and following strict hygiene routines. The health and well-being of our families, colleagues, customers and the wider community is paramount to us, as ever.
WE ARE ANSWERING ALL EMAILS! Therefore, we would like to remind you to email via the website and we will respond promptly to your request.
As we are unable to take direct calls at present, we will use the answer phone to support this message.
Through all of this, we can assure you we remain focused on ensuring you will receive a quality product with the same unrivalled service, whenever you need it.
Stay safe and keep in touch!
(Please read below new items for additional information)
(17th April 2020)
---
Vacant or Engaged the choice is yours
We now have high quality, hand finished Vacant / Engaged Privacy Latches in stock to complement our door knob range.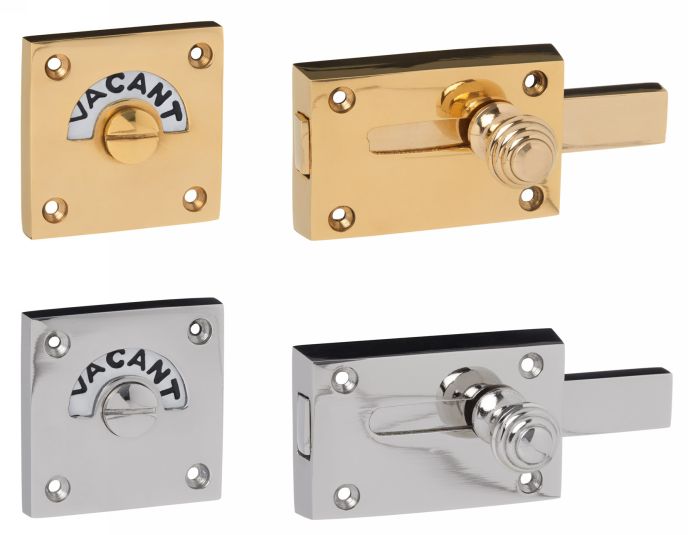 These are available in a polished brass, polished nickel, satin brass lacquered and satin nickel lacquered finish.
(15th November 2019)
---
Look and feel great in grade II building
Jamie from Gloucestershire has sent us the following photos of the Georgian Door Knobs Brass Reeded Large: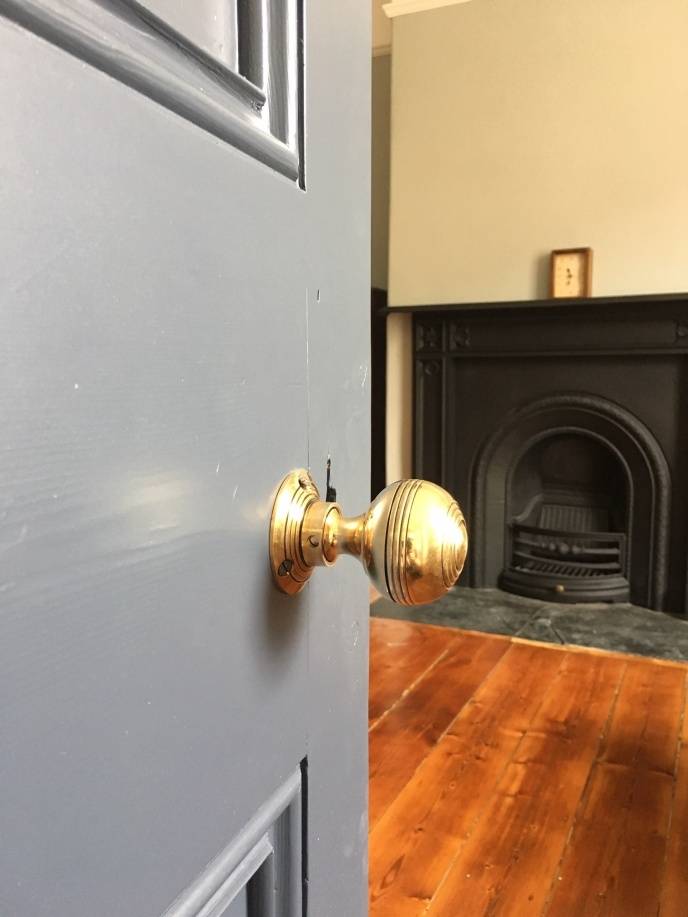 He commented: We bought 3 pairs for the doors in our front hallway, and they feel nice and sturdy, and operate smoothly. The colour isn't a uniform brass, so they do look a little aged which is what we were looking for in our 200-year old Georgian house.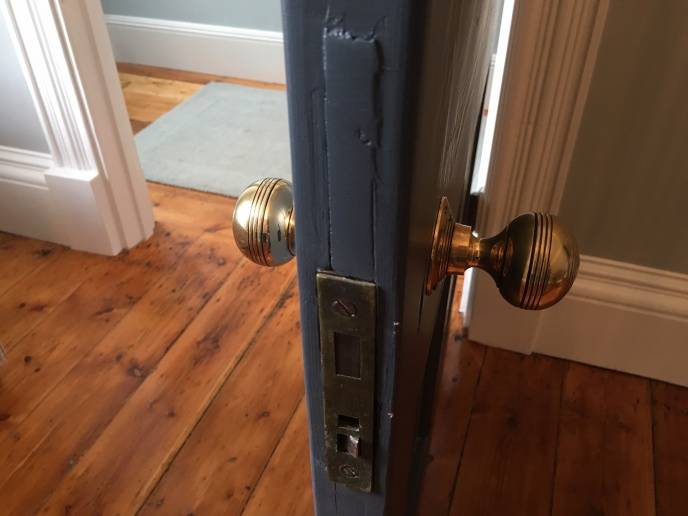 Many thanks to Jamie for these photos.
(25th September 2019)
---
Quality finish and a touch of elegance
Mary from London has sent us the following photo of the Cast Iron Air Brick: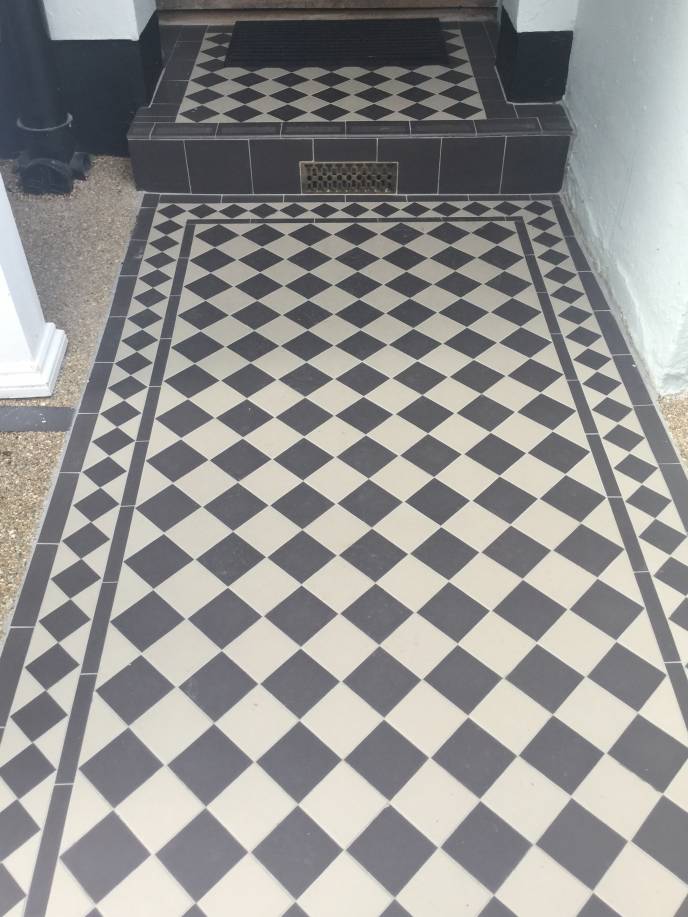 She commented: Excellent product - exactly as shown online. The service was excellent.
Many thanks to Mary for this photo.
(2nd September 2019)
---
Finishing touch to a Victorian property
Andrew from Cambridge has sent us the following photo of the Solid Brass Letter Plate with Clapper: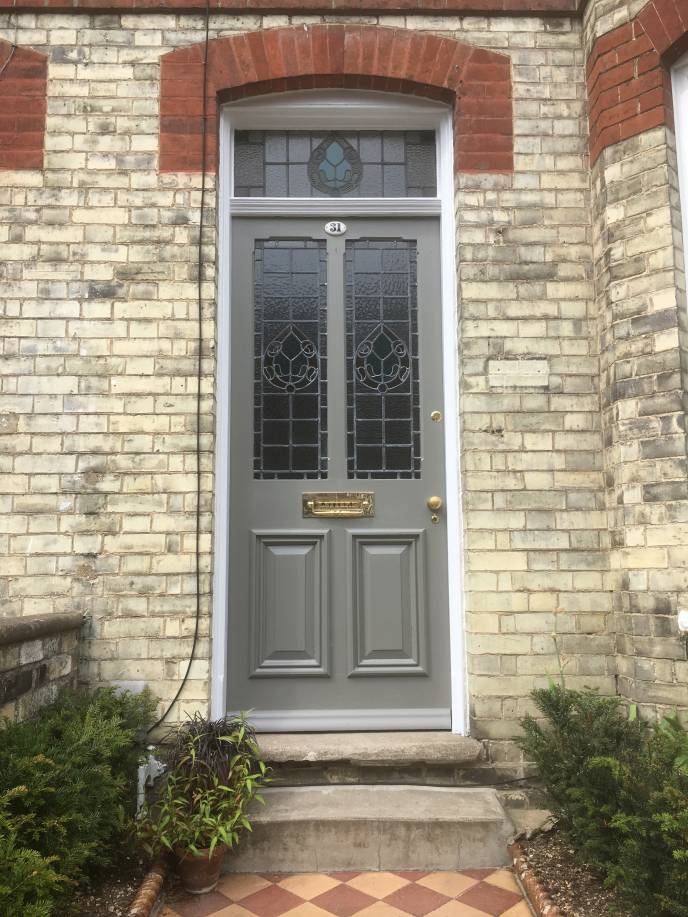 Andrew commented: Well made classy product, very pleased with how it looks on our Victorian house. Arrived within a couple of days would recommend product and Vintage Door Knob Centre
Many thanks to Andrew for this photo.
(17th July 2019)
---
Perfect for a new build home
Larrisa from Cambridgeshire has sent us the following photos of the Victorian "Beehive" style nickel door knob: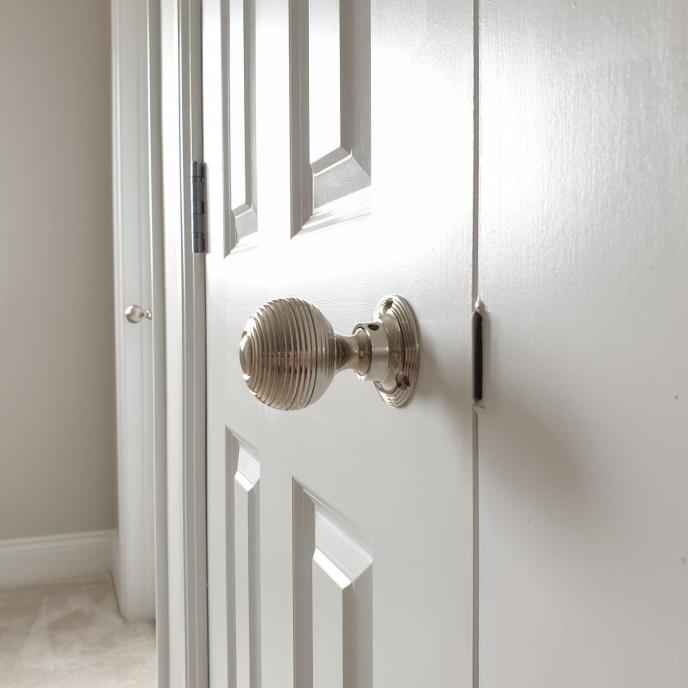 Larrisa commented: Ordered these for our new build house. Love them, they are exactly what I wanted. I ordered the smaller ones first but changed my mind and ordered these. Fantastic customer service. Would definitely recommend!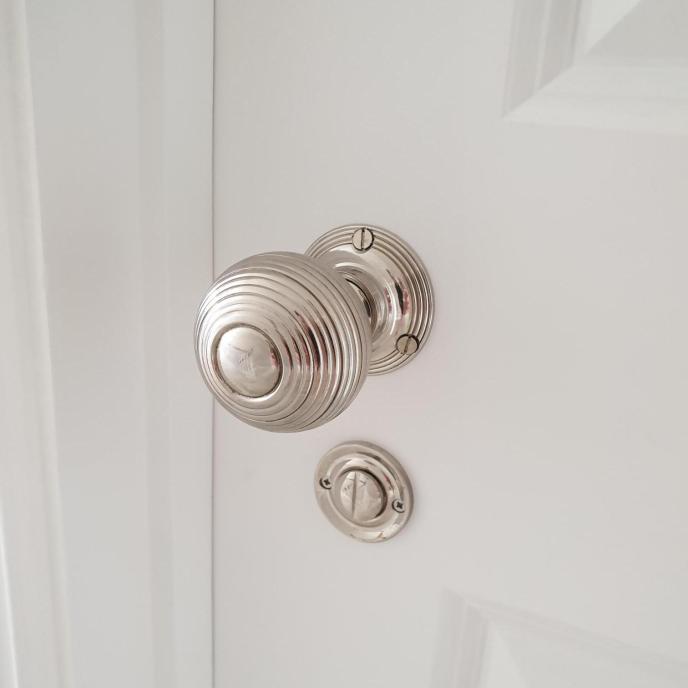 Many thanks to Larrisa from Cambridgeshire for these photos.
(27th June 2019)
---
Customer really impressed with the quality
Paul from Buckinghamshire has sent us the following photos of the Victorian/Edwardian ebonised "Bun" style door knob: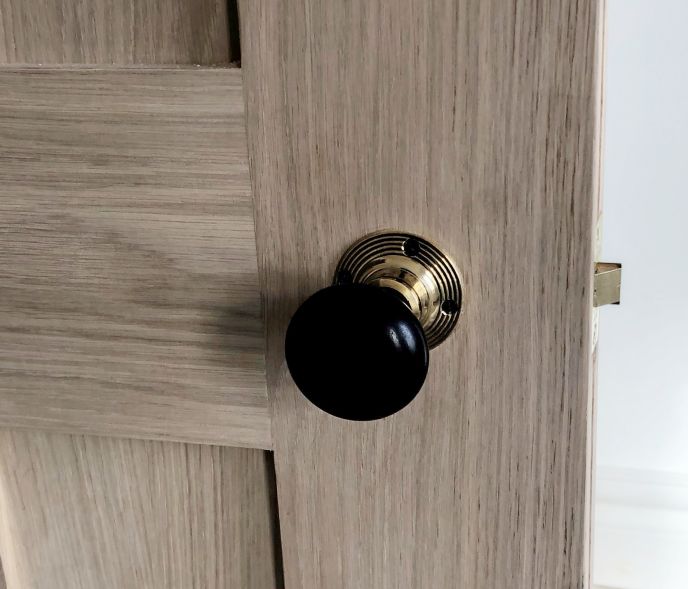 Paul commented: These look absolutely great on our oak 4 panel doors. Really impressed with the quality and the speed of delivery. Bought a similar knob at another website to compare but the detail and the finish on these were far better. Would definitely recommend for that vintage feel to any renovation.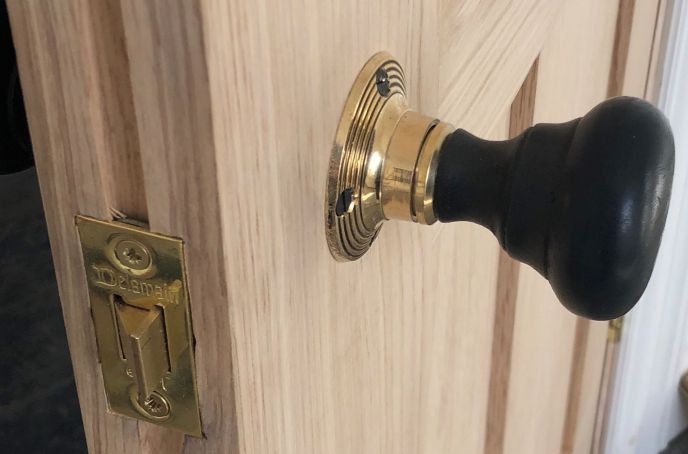 Many thanks to Paul from Buckinghamshire for these photos.
(11th March 2019)
---
Satisfied tradesman
A very satisfied tradesman has sent us the following photo of the Solid Brass Doctor's Door Knocker: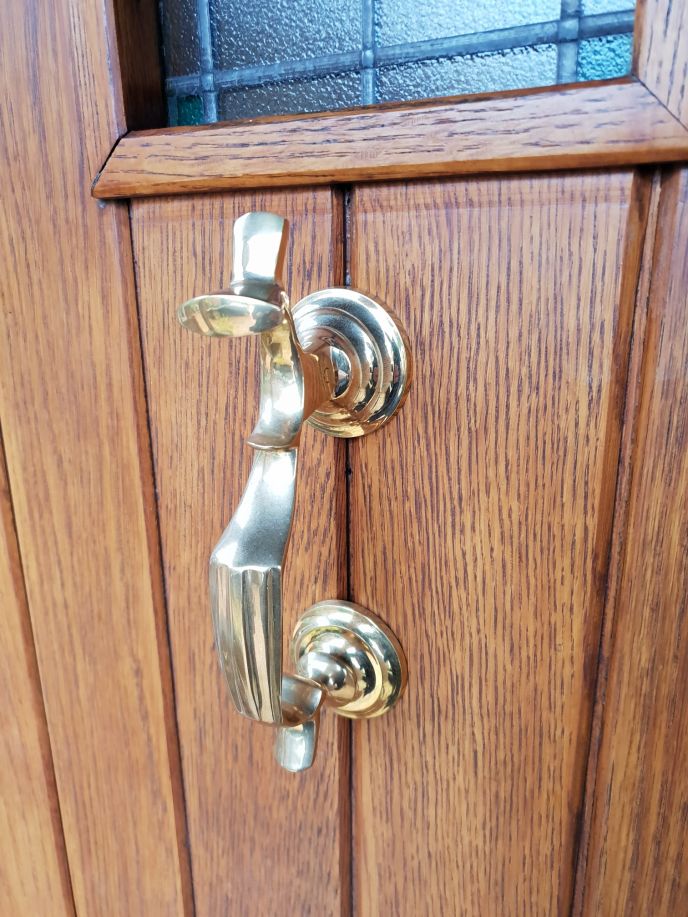 Steve commented: As a time served joiner of 4 decades I've fitted lots of door furniture and I must say this seems to be a quality item. We're very pleased with the finish and it's quite weighty which in my book lends itself to quality products.
Many thanks to Mr Steve B from Leicestershire for this photo.
(11th February 2019)
---
A touch of elegance
Customer is very happy with our with Large Brass Beehive door knobs which blend in seamlessly with the unusual curved doors.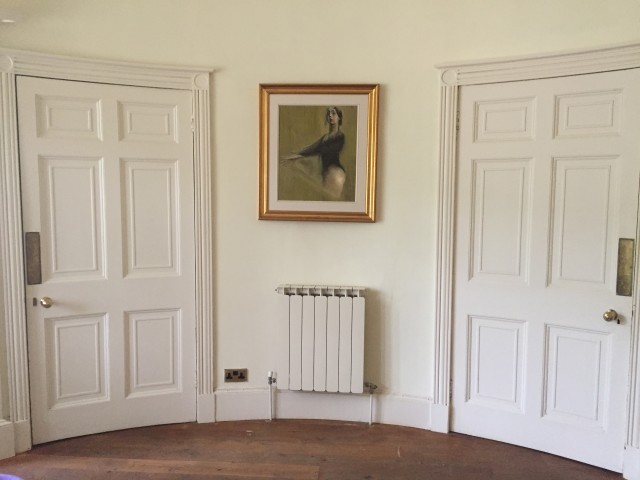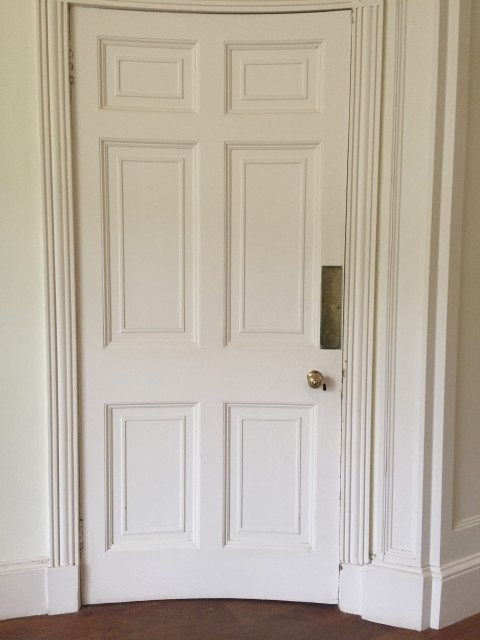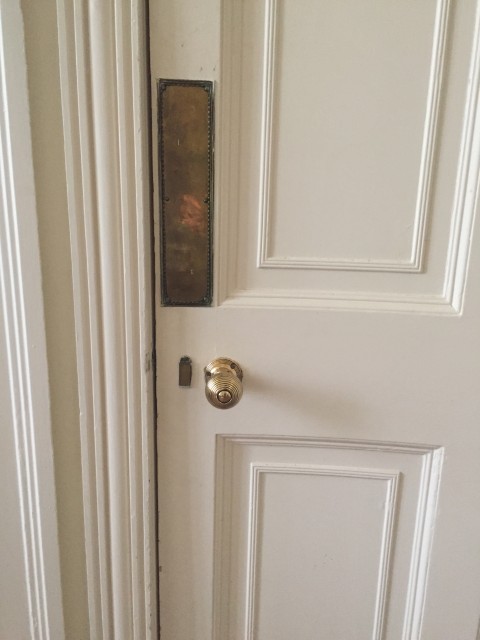 The customer commented: The knobs match exactly those on the opposite side of the entrance hall.
Many thanks to Mrs K.D. in Gloucestershire.
(11th May 2018)
---
New Georgian brass door knob
We now have in stock the large Georgian brass reeded door knob.
This complements the smaller Georgian brass reeded door knob.
(24th April 2018)
---
Another happy Beehive door knob customer
Customer loves our door knobs and has sent us a couple of pictures of the Ebonised Beehive Door Knobs with Brass Rose Plates: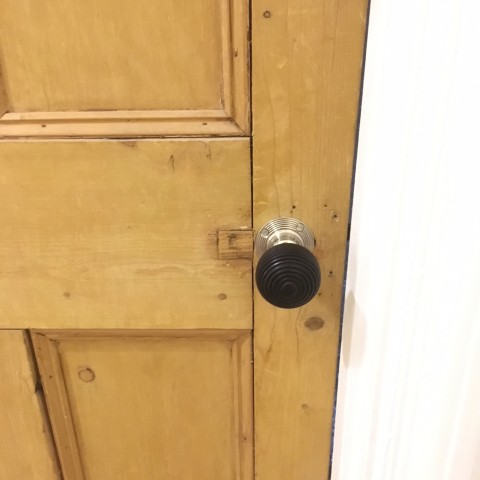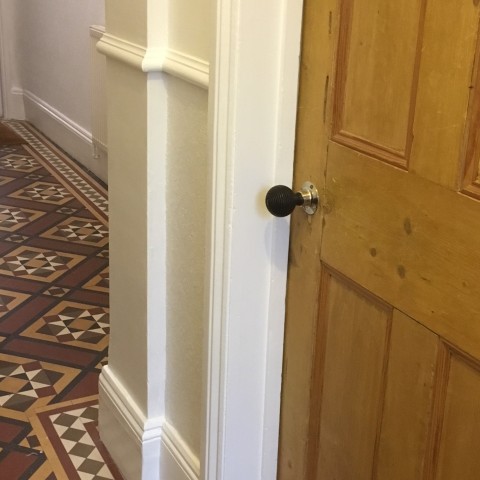 The customer commented: We LOVE them so much they are all over the house will be doing upstairs soon as builder finished so shall be back for more.
Many thanks to Mrs J.N. in Northamptonshire for the photos.
(27th March 2018)
---
Happy Beehive door knob customer
A very happy customer has just sent us the following picture of the Ebonised Beehive Door Knob: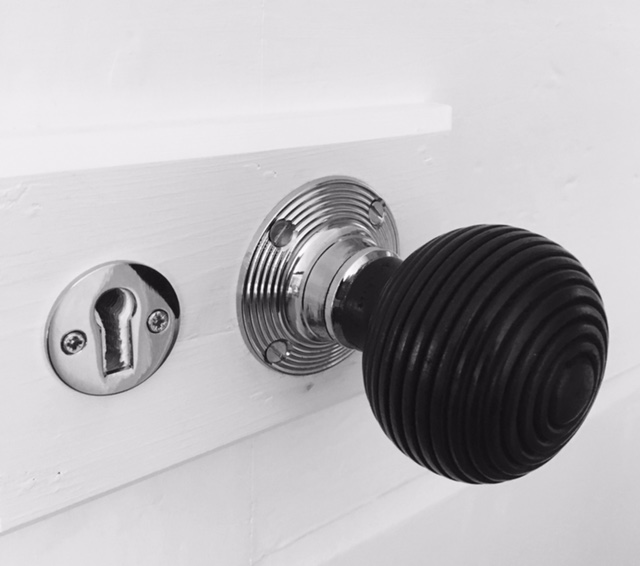 They commented: We recently ordered some beehive door knobs & they look fantastic!!! Really lovely thank you.
If you have purchased from us then please feel free to send us your photos. We'll be very happy to show them here.
(22nd September 2017)
---