Happy Beehive door knob customer
A very happy customer has just sent us the following picture of the Ebonised Beehive Door Knob: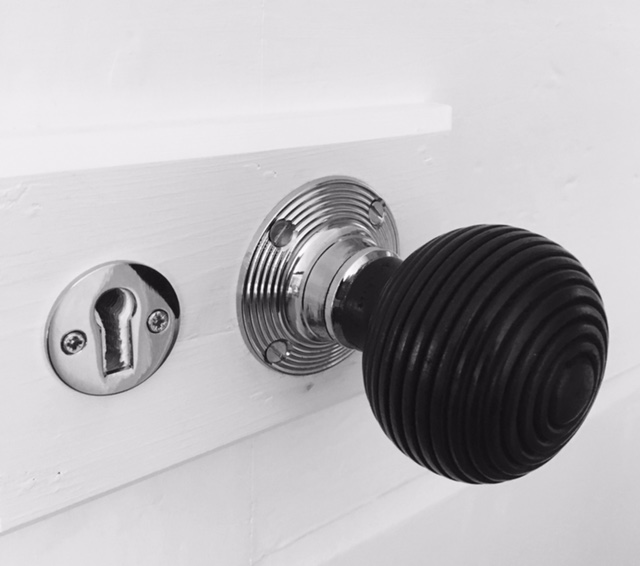 They commented: We recently ordered some beehive door knobs & they look fantastic!!! Really lovely thank you.
If you have purchased from us then please feel free to send us your photos. We'll be very happy to show them here.
(22nd September 2017)
---
Brand new delivery just received
In order to keep up with the demand for our vintage door knobs & hardware, we have just taken delivery of yet another order from our supplier.
As we commission our own designs, we know that the quality and style of all the designs we sell are second to none. Don't take our word for it, see the reviews from our customers on all our vintage door knobs, cupboard knobs, escutcheons and hand forged ironmongery.
(9th August 2017)
---
Easter opening times
The Vintage Door Centre are going to join you in taking a very short, but well earned break this Easter!
Our Easter Weekend opening times will be as follows:
| | |
| --- | --- |
| Good Friday | – Open as usual |
| Easter Saturday | – Closed |
| Easter Sunday | – Closed |
| Easter Monday | – Closed |
| Tuesday 18th April | – Open as usual |
Happy Easter
(3rd April 2017)
---
Mobile telephone number and new courier
In order to prevent unnecessary delays with the delivery of vintage door knobs due to not being able to leave voicemail messages etc., please ensure that you provide a mobile telephone number when placing your order.
This will not only ensure that our pallet delivery partner can contact you more easily, but with vintage door knob orders being shipped by our new courier (DPD), you will be able to take control of your parcel deliveries more easily and get these delivered when and where you want from your smart phone.
(17th February 2017)
---
Very Happy Christmas & New Year
From us all at the Vintage Door Knob Centre, we would like to wish all our customers a very Happy Christmas & New Year. Thank you once again for all your support over the past 12 months and we look forward to hearing from you in 2017!
(16th December 2016)
---
Vintage cupboard knobs very popuplar
Further to the introduction of our vintage cupboard knobs earlier in the year, these have proved to be extremely popular and customers are now seeing the benefit matching their vintage door knobs with the cupboard knobs we can offer.
Likewise, many trades are purchasing the vintage cupboard knobs as alternatives to the boring cabinet handles available on the high street and in the usual DIY stores and are breathing new life into that new kitchen or restored vintage chest of drawers with these smaller cupboard knobs.
Please don't miss out on this great opportunity and be sure to order in time for pre-Christmas delivery.
(22nd November 2016)
---
Vintage Door Knob Centre goes international
As the popularity of our vintage door knobs continues to grow thanks to their excellent quality and great value, they are becoming a smash hit on the international stage and we are supplying regularly across the globe.
Recent orders include our CDC-6 Ebonised Beehive & Nickel style supplied to South Carolina in USA and our CDC-11 Large Brass Beehive style supplied to Tasmania in Australia.
(29th July 2016)
---
Launch of Victorian cupboard knobs
Vintage Door Knob Centre has now added Victorian cupboard knobs to its collection. These are a perfect match for our range of vintage door knobs.
Available in:
Ebonised Beehive - Brass
Ebonised Beehive - Nickel
Brass Beehive
Nickel Beehive
(15th March 2016)
---
New stock just in
Following products now back in stock:
Rosewood Beehive Victorian Door Knobs in Nickel
Brass Reeded Georgian Door Knobs
Cast Iron Rim Lock
Hand Forged 18 inch T-Hinges
Please hurry whilst stocks last!
(11th February 2016)
---
Vintage Door Knob Centre
Launch of our new vintage door knob website.
(9th July 2015)
---